Every now and then, there is one conversation that rears it's ugly head amongst the book community on twitter. YA aka books for Young Adults.
I honestly don't know how it came up this time. I think it may have been when a certain Author tweeted to an adult "don't read my books, they aren't for you they are for kids". It could have been something before this but I'm not sure, all I know is that there was quite the storm on twitter.
This here is my two cents on the matter. This is the last time I will get involved in this conversation because not only am I sick of people fighting over it, but I feel like as an adult, it isn't my place to really be going on about this.
So here it is.
Young Adults
You are wanted and needed in the book community. Seriously. The world is changing and young people have new ideas about how things should be done. Only in the last few years has diversity been challenged because we had young people specifically, using their voice and saying "this isn't right".
Tell us adults when we overstep. Let us know if we have made you uncomfortable or if you don't like something that we have said/done.
Your feelings are 100% valid. You are living, breathing human beings and deserve respect and the ability to use your voice without having to worry about backlash.
Despite whatever people may say, YA is for you.
With that in mind, remember that you can also read whatever the fuck you want.
Adults
Continue reading YA.
If an Author is telling you not to read their books because they didn't write them for you, think about whether this Author is really worth your time anyway.
People are going to judge you for reading YA. They shouldn't, but they will because people as a whole are judgemental creatures. Should you just lie down and accept this? I don't know, it's up to you and whether you want to keep fighting a fight that probably won't be won by anyone.
Remember that YA is for young adults. Love these books and fangirl with others, but remember not to take over a space that is for young adults. We had our turn when we were their age, now let's hand the gauntlet over to them.
Promote young adults and their blogs, tweets, Instagram…whatever other social media things I am missing out on. Especially as a teenager, it can feel impossible for your voice to be heard. Let's get those voices out there, teens do SO MUCH for the book community and we should be encouraging anyone who wants to fangirl over books.
Everyone
Please remember that at the end of the day, we are all here because we love books. Respect one another and don't talk over each other. If you have differing opinions that's ok. Shake hands and move along. If someone is making twitter, your blog…whatever, a toxic environment, get rid of them. You don't need the negativity and you should be in a space that feels safe and comfortable.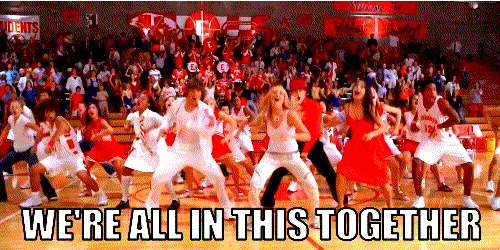 Anyway, that's it. If you disagree/agree with anything I have said above please let me know, but please keep it respectful. I'm not here to fight with anyone, just giving my opinion.
Steff xx