I have read quite a few trilogies now, so I thought it would be a good time to give you all a list of my favourite trilogies.
Now, the ranking system is quite different because quite a few of these are my absolute favourites and therefore I couldn't rank one over the other. That is why this is in 2 parts. Instead of doing a list of 1 – 10, I have done a list of 1's and 2's….you'll see what I mean. One thing you will notice is that these are all fantasy…well, duh! I don't read much else, why would I? You will also notice that this is a mix of adult and young adult. I don't really care who the book is intended for, if it looks good I will read it.
1's
Red Rising – Pierce Brown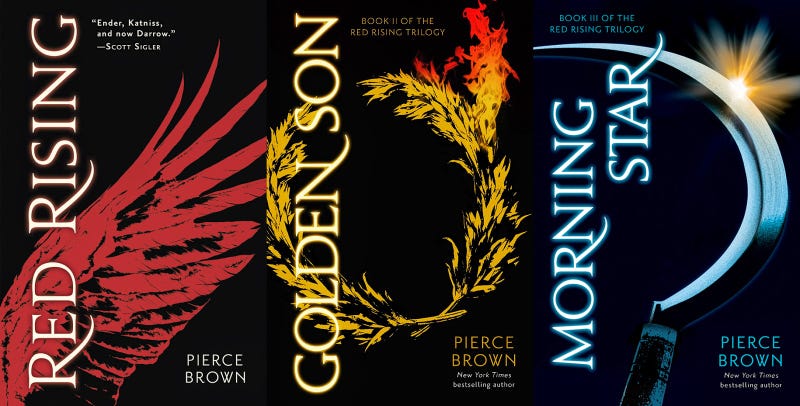 I have spoken about this one SO MANY TIMES, but I will talk about it some more. This series is absolutely, ridiculously awesome. I have only known of one person who didn't like it, everyone else I have recommended it to have become obsessed with it. I cannot recommend this series highly enough. If you love action, sci-fi, plotting, revenge, stabbiness….well you NEED to read this series straight away.
The Demon Child trilogy – Jennifer Fallon
Oh…My…God….this series is just….I cannot properly express how much I fucking LOVE this series. I love books about gods, and this series has just such a unique take on gods, what they do and how they rise to power. I looked at reviews for this series and a lot of people disliked the main character R'shiel, however I absolutely loved her. I think people dislike her because she is very rash and at the beginning of the series she was a bit of a brat. But she ended up being awesome and she didn't mind making the hard decisions. There is some…ah…romance, but don't go into this series with high hopes of romance because you will be disappointed HAHAHA.
The Infernal Devices – Cassandra Clare
My loves…sigh. I love that it is set in London and I love the characters. This series has one of the BEST love triangles in it and I just love the love that the 3 main characters have for each other. I usually absolutely hate love triangles because I find them tiring and you know that there is usually always going to be a fall out. TID is an exception and for that, it is one of my favourites.
A Darker Shade of Magic – V.E. Schwab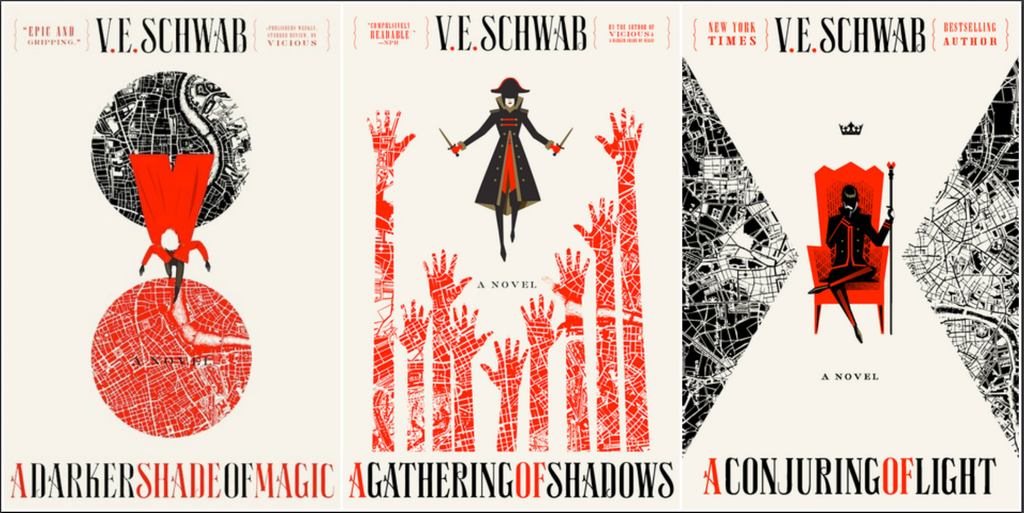 I think I can properly say that the main reason I love this series is because of Delilah Bard. If you have read this series then you will understand what I mean. She is just the fucking coolest character I have ever come across, and I wish I could be even a quarter of her coolness. She is this wonderful, stabby, androgynous cinnamon roll, and she gives zero fucks. Oh, and she wants to be a fucking pirate. V.E. Schwab's writing is just so mesmerising, this series pretty much hooks you from the first line in the first book.
The Captive Prince – C.S. Pacat
Damen and Laurent are just so freaking beautiful. The first book (The Captive Prince) is fucking brutal, and you will be thinking "um, I thought Damen and Laurent were supposed to like each other". Stick with it my friends, because when you finally get to the moments between these two, it is so rewarding. This series has some of the most intimate sex scenes I have ever read. They don't read like erotica, they just read like two people who are trying to figure out who they are and how they feel the way they do about the other, and working around their inexperience in both the physical and emotional sides of their relationship. This series is fucking beautiful, but like I said, get past the first book and you will know what I am talking about.
Daughter of Smoke and Bone – Laini Taylor
If something is about angels and demons I am pretty much going to go "fuck yeah!". This series is so original and not at all what you expect it to be. Karou is just freaking beautiful, with her blue hair and tattoos (pretty much everything I want to be), and her friendship with Zuzana is fucking perfect. When Akiva steps in, shit just goes bonkers and the dynamic between Karou and Akiva shifts SO MUCH, it will actually give you whiplash. Laini Taylor is a beautiful, beautiful writer, and that alone is why you should read this series if you haven't already done so.
2's
The Farseer Trilogy – Robin Hobb
These books are extremely slow burn, but if you stick with it you get full immersed in the world and you will keep going back for more. While Fitz is maybe not always my favourite character, I do feel so much for him and his situation. Nighteyes is MY FAVOURITE character of this series. When you meet him, you will learn why. Look, all I can say is that if you love kings, queens, magic, scandal, plotting, revenge etc. then I highly recommend this series. Just go into this series aware that this trilogy is only a small part of the larger Realm of the Elderlings series, which is 16 books overall.
The Mistborn Trilogy – Brandon Sanderson
These books were my introduction to Brandon Sanderson and I was not disappointed. The magic system was just freaking awesome, and the way the books are set out is kind of mind blowing. I can't explain why because I don't want to ruin anything, just expect surprises. One of the other things I loved about this series is the aspect on religion, what it means to individuals and why people tend to follow. Don't worry, it's nothing preachy at all, but it's just one of the few themes brought up through the books which I found to be extremely interesting. There is more to this series, I believe another trilogy afterwards? But I haven't read it yet. These books are soooooo good, definitely for anyone who loves some good, epic fantasy.
Illuminae Files – Amie Kaufman and Jay Kristoff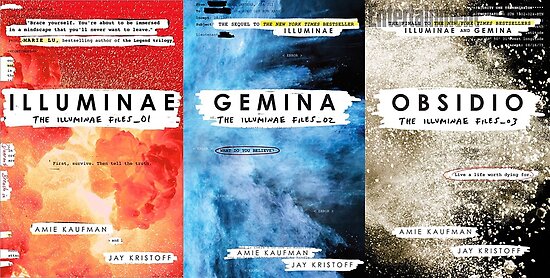 At first glance these books look scary to read. They layout is quite different, and that was enough for me to put them off for a little while. What you will find when you start reading them however, is that they are addictive and actually quite easy to read. Both authors did an amazing job at bringing this story and world together, and I can't imagine how difficlut it would have been to piece it all together. All three books are action packed, and you pretty much hold your breath the whole way through.
A Court of Thorns and Roses – Sarah J Maas
I surprised myself by putting this on the list because I'm really not a MASSIVE fan of ACOWAR or ACOTAR. However, ACOMAF makes up for where these two lack, and that is why I added this book to the list. Look, there are bits of ACOWAR that worked and that I really liked. I could go on forever about all of my issues with ACOWAR, but simply put, it should NOT have been written in only one PoV…that is where most of my issues fall. It was laziness, and it was a let down. But ACOMAF….say what you want about SJM, but she knows how to bring a character up out of the ashes. The themes in ACOMAF are very similar to that of Heir of Fire, and I think that is why it resonates with me so much. I love ACOMAF that much, that I am actually willing to put a series on my favourites list where 2 of the books out of the 3 are average, which says A LOT about the middle book.
*********
So there you have it, those are all my favourite trilogies. I hope my numbering system made sense!! Do you consider any of the above as your favourites? Let me know in the comments section below!!
Steff xx