Happy Monday Everyone!!
I hope you are all having a super swell start off to the week. I am currently watching 13 Reasons Why (it's taking me a bit to get through)….I think I have enough feelings about this show that I shall do a post about it soon.
Today, however, is dedicated to the 3rd book in the Bone Season series "The Song Rising" by Samantha Shannon.
Synopsis
Following a bloody battle against foes on every side, Paige Mahoney has risen to the dangerous position of Underqueen, ruling over London's criminal population.
But, having turned her back on Jaxon Hall and with vengeful enemies still at large, the task of stabilising the fractured underworld has never seemed so challenging.
Little does Paige know that her reign may be cut short by the introduction of Senshield, a deadly technology that spells doom for the clairvoyant community and the world as they know it…
My thoughts…
I got through this book really quickly because I could NOT put it down! This story follows on from The Mime Order, where Paige turned on Jaxon because despite what he said, didn't have the best interests of the clairvoyant community at heart. From there we see the introduction of Senshield, and it is pretty much going to make life hell for "unnaturals". So Paige and company have to do something about it soon or, as per R.E.M's song, "it's the end of the world as we know it".
I have to say, I absolutely love the world that Samantha Shannon has created. Everything about this story is completely original, and I think that is what makes this series so refreshing. Every single detail has been well thought out, from the streets of London to the hierarchy in the Mime Order.
I had sooooo many feelings whilst reading this book. I am still absolutely IN LOVE with Warden. He is completely different from other male characters in books. He is just this stoic, steady presence in Paige's life, and whilst their relationship is quite complicated, it would have to be one of my favourites. I think it's because there is a mutual respect there, and Warden has so much faith in Paige. There is also the whole "forbidden romance" thing going on, which I am always a sucker for 🙂
The introduction of Senshield really threw a spanner in the works, so I felt a whole lotta anger at stupid Scion and their need to control and eliminate "unnaturals". Like, come on guys, they're just like you and me except they can do super awesome stuff with spirits and the like. Reading this series makes me wish I was clairvoyant..and in the past I have thought I had a "sixth sense" because I have had dreams that have come true…but it's pretty unreliable and only seems to happen when someone is pregnant…weird…I know.
I cried a couple of times throughout, because Shannon made sure to rip our poor little hearts out (but in a good way…I guess!). I wish I could just go into all the things that made me sad or mad, but that would be giving away the story and you all really need to read it for yourself. Words can't express how wonderful, intense, exhilerating and heartbreaking this story was.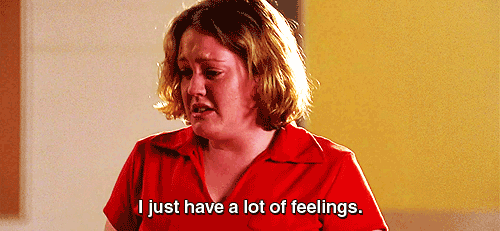 Ok, so if you haven't read this series you absolutely HAVE TO!! Things have changed so much from the first book and we are only 3 books in. I can't wait to see what is in store for us over the next 4 books. Samantha Shannon is a brilliant writer and I will pretty much worship her forever now. THAT'S how awesome she is.
This book gets like, a million stars out of five.