January has been an interesting month to say the least. It started off with me in Wisconsin, where it was freeeeeezing cold. And then I got back to Australia to reaaallly hot! So it took a little bit to adjust to that, as well as getting back to work and getting into the swing of things.
I didn't get to read as much as I would have like, but I have managed to read 4 books –
The Name of the Wind – Patrick Rothfuss
This book was sooooooooo good!!!! I love Kvothe and his story, and I absolutely cannot wait to read the next book in the series (probably later on in the year). I can tell that this story is going to become more epic…*happy dance!!!*
Daughter of Smoke and Bone series – Laini Taylor
I am about half way through Dreams of Gods and Monsters but I thought I would count it anyway. I LOVE THIS SERIES!!!! Like, OMG!!! I put this series up there with the Throne of Glass series and The Infernal Devices (which are my other fave series). If you love angels/devils and exquisite world-building with magic, romance and adventure…this book is for you! I am going to shed a lot of tears at the end of the series, I can already tell.
BOOK HAUL
On top of the DOSAB series, I also bought the following:
Prince of Thorns – Mark Lawrence
Before the thorns taught me their sharp lessons and bled weakness from me I had but one brother, and I loved him well. But those days are gone and what is left of them lies in my mother's tomb. Now I have many brothers, quick with knife and sword, and as evil as you please. We ride this broken empire and loot its corpse. They say these are violent times, the end of days when the dead roam and monsters haunt the night. All that's true enough, but there's something worse out there, in the dark. Much worse.
From being a privileged royal child, raised by a loving mother, Jorg Ancrath has become the Prince of Thorns, a charming, immoral boy leading a grim band of outlaws in a series of raids and atrocities. The world is in chaos: violence is rife, nightmares everywhere. Jorg has the ability to master the living and the dead, but there is still one thing that puts a chill in him. Returning to his father's castle Jorg must confront horrors from his childhood and carve himself a future with all hands turned against him.

All Etta Spencer wanted was to make her violin debut when she was thrust into a treacherous world where the struggle for power could alter history. After losing the one thing that would have allowed her to protect the Timeline, and the one person worth fighting for, Etta awakens alone in an unknown place and time, exposed to the threat of the two groups who would rather see her dead than succeed. When help arrives, it comes from the last person Etta ever expected—Julian Ironwood, the Grand Master's heir who has long been presumed dead, and whose dangerous alliance with a man from Etta's past could put them both at risk.
Meanwhile, Nicholas and Sophia are racing through time in order to locate Etta and the missing astrolabe with Ironwood travelers hot on their trail. They cross paths with a mercenary-for-hire, a cheeky girl named Li Min who quickly develops a flirtation with Sophia. But as the three of them attempt to evade their pursuers, Nicholas soon realizes that one of his companions may have ulterior motives.
As Etta and Nicholas fight to make their way back to one another, from Imperial Russia to the Vatican catacombs, time is rapidly shifting and changing into something unrecognizable… and might just run out on both of them.
We need to talk about Kevin – Lionel Shriver
The gripping international bestseller about motherhood gone awry.
Eva never really wanted to be a mother – and certainly not the mother of the unlovable boy who murdered seven of his fellow high school students, a cafeteria worker, and a much-adored teacher who tried to befriend him, all two days before his sixteenth birthday. Now, two years later, it is time for her to come to terms with marriage, career, family, parenthood, and Kevin's horrific rampage in a series of startlingly direct correspondences with her estranged husband, Franklin. Uneasy with the sacrifices and social demotion of motherhood from the start, Eva fears that her alarming dislike for her own son may be responsible for driving him so nihilistically off the rails.
Songs of a War Boy – Deng Thiak Adut
Deng Adut's family were farmers in South Sudan when a brutal civil war altered his life forever. At six years old, his mother was told she had to give him up to fight. At the age most Australian children are starting school , Deng was conscripted into the Sudan People's Liberation Army. He began a harsh, relentless military training that saw this young boy trained to use an AK-47 and sent into battle. He lost the right to be a child. He lost the right to learn.
The things Deng saw over those years will stay with him forever. He suffered from cholera, malaria and numerous other debilitating illnesses but still he had to fight. A child soldier is expected to kill or be killed and Deng almost died a number of times. He survived being shot in the back. The desperation and loneliness was overwhelming. He thought he was all alone.
But Deng was rescued from war by his brother John. Hidden in the back of a truck, he was smuggled out of Sudan and into Kenya. Here he lived in refugee camps until he was befriended by an Australian couple. With their help and the support of the UN, Deng Adut came to Australia as a refugee.
Despite physical injuries and mental trauma he grabbed the chance to make a new life. He worked in a local service station and learnt English watching The Wiggles. He taught himself to read and started studying at TAFE.  In 2005 he enrolled in a Bachelor of Law at Western Sydney University. He became the first person in his family to graduate from university.
This is an inspiring story of a man who has overcome deadly adversity to become a lawyer and committed worker for the disenfranchised, helping refugees in Western Sydney. It is an important reminder of the power of compassion and the benefit to us all when we open our doors and our hearts to fleeing war, persecution and trauma.
A Court of Wings and Ruin – S.J.Maas (pre-order)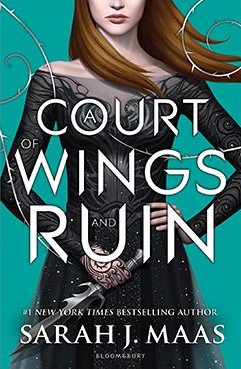 Looming war threatens all Feyre holds dear in the third volume of the #1 New York Times bestselling A Court of Thorns and Roses series.
Feyre has returned to the Spring Court, determined to gather information on Tamlin's maneuverings and the invading king threatening to bring Prythian to its knees. But to do so she must play a deadly game of deceit-and one slip may spell doom not only for Feyre, but for her world as well.
As war bears down upon them all, Feyre must decide who to trust amongst the dazzling and lethal High Lords-and hunt for allies in unexpected places.
In this thrilling third book in the #1 New York Times bestselling series from Sarah J. Maas, the earth will be painted red as mighty armies grapple for power over the one thing that could destroy them all.
************************************************************************
Anyhoo, I think that's about all for now!! Have you read any of the above or are they on your TBR? Are you ridiculously EXCITED for ACOWAR??
Steff xx