Hello everyone!
So, I'm finally starting to get back into the swing of things, slowly getting over my silly jetlag. I will be posting more and more as my head comes right again (like you have all been sooooo sad that you didn't get to see a post from your-truly for the last month).
Last week I posted a Q & A that I did with Author of Corrupt Me, Jillian Quinn. This week I am following up with a review, filled with gifs and word vomit…I hope you enjoy 🙂
For starters:
Question. Do you like fun? Do you like romance? Do you like enemies to lovers or bad boy tropes? If you answered yes to any or all of these questions, then continue reading. If you answered no, continue reading anyway, because you may find that you will love this book like I did.
I put my hand up to read the ARC, not really knowing what I was getting into. Getting your book out there can be seriously stressful stuff, and I think it's important to help others share their art with the world. All I knew was this book was called "Corrupt Me" by the lovely Jillian Quinn (who also has an AMAZING blog – rant and rave about books, check it out!).
Synopsis:
My Review:
As soon as I started reading this book, I was literally hooked from the first page. Isabelle (Izzie) in the first couple of pages shows that she is her own person and doesn't let people walk all over her…yes she is hotheaded, but I like to think what I would do in certain situations that are presented to the main character. So if someone almost ran over me…yeah I would probably throw something at their car too. I LOVE female characters that think logically and strategically, rather than just blindly following their heart and doing stupid stuff for their sparkly vamp…you get the point. Izzie is a Rinaldi, she knows her roots and sticks to them which is admirable, especially when she is faced with some really tough life-changing decisions.
You could break this book up into two parts – the first half being about wanting what you can't have and tasting the forbidden fruit. The second half is YOLO, characters coming to their senses and giving into their hearts desire. I always find the first part in any story a bit more difficult to get through because I am terribly impatient. It's definitely through no fault of the author, believe me. I generally read the ending of books before I start them so there are no nasty surprises…so yeah, pretty impatient…
Luca…oh Luca. You know from the second that him and Izzie are on the same page as each other there is going to be sexual tension…and boy was there ever!! His descriptions of Izzie are blunt and honest, which I love (but sometimes also made me go "whaaaaaat"). He ticks off all the boxes – smart, good looking and a bad boy. There is a softness to him as well which I really like. In so many books, the male character is hard as a rock and you never really get to see the squishy centre. Luca has a squishy center (this probably sounds all wrong, but I hope you are picking up what I am putting down). Quite simply, I thought underneath it all, Luca is a bit of a sweetheart.
There is ALOT of steaminess in Corrupt Me however it doesn't take over the whole story. It is about two people who have a lot of things weighing on them and the sexual tension between these two is craaaazy! I love the whole "forbidden romance" aspect, because it seems to draw them together even more.
I really enjoyed the plot, and for me, I was quite glad that the main focus was on Izzie and Luca. Sometimes the characters can get really lost in the plot, especially if it ends up being super complex. I thought that the plot was really well thought out, enough for me to know what was going on in both characters worlds, and enough that I didn't want to skim over parts. I haven't had a lot to do with Mafia movies such as The Godfather (I know, I know, I really need to watch it some day) but I feel that a lot of research went into the Italian-American world, enough that I wasn't confused by what was going on or why. I feel that there is alot more that is going to be unraveled throughout this series, and I can't wait to dig a little bit deeper into the world Jill has built.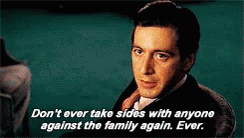 I think Jill has done an amazing job for her debut novel, and I definitely am expecting to see alot more from her. Most people know that I am pretty much a fantasy/sci-fi reader, so when I say that I enjoyed this book immensely I think that in itself explains alot.
You can now purchase the paperback on Amazon here.
If you want to read other reviews for Corrupt Me, click here.
So tell me, are you willing to be corrupted? Let me know, in the comments below.
Steff xx